Peppered Grilled Elk Medallions with Red Wine Sauce & Lingonberry Compote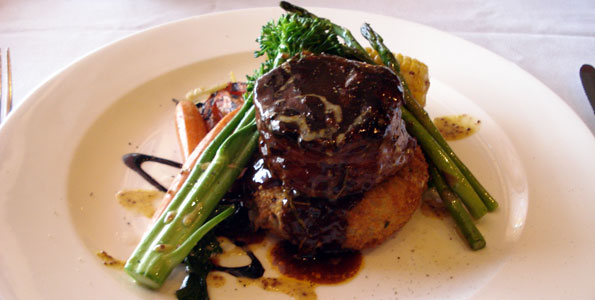 Serve with desired vegetable and starch. Scalloped potatoes or roasted red bliss potatoes are a nice accompaniment.
Ingredients
3 pounds: Elk, Deer or Venison Top round (denuded-removing the side muscle and all the silverskin on the top)
1 bottle red wine, 750ml
2 14oz cans beef broth
1-2 packets of beef gravy mix
1 fresh rosemary sprig
2 C frozen lingonberries (There may be lingonberry compote available at your local higher-end grocery store. Another berry may be substituted)
1 6oz can of pineapple juice
3 T cornstarch (hydrated in enough water to make a thick liquid)
1 C granulated sugar
Salt & pepper
Cracked black pepper
Wine Suggestions: A full bodied Cabernet Sauvignon or Red Zinfandel.
Method for Red Wine Sauce:
Bring red wine to a boil in 2qt. sauce pan and reduce by ¾. Add beef broth and bring back to a boil. Slowly whisk the gravy mix into the broth until it begins to thicken. It may not be necessary to use all of the mix. Reduce heat and simmer 15-20 min. allowing it to slowly thicken. Once it is at your desired consistency remove from heat and place rosemary sprig into sauce. Set aside in warm place until needed.
Method for Lingonberry Compote:
Bring lingonberries and pineapple juice to a boil in 2qt. sauce pan. Add ½ c sugar until combined and reduce heat. Taste the sauce to determine if more sugar is necessary. Once sauce is to your liking, whisk in small amounts of cornstarch until the sauce has thickened a little. It may not be necessary to use all of the cornstarch. Simmer sauce for 10 min. to thicken to desired consistency. Remove and cool.
Method for Grilled Elk:
Portion the elk into 3-4 oz. medallions and sprinkle cracked black pepper and salt on both sides of meat. Grill elk on pre-heated hot grill to desired doneness. Once it is ready serve on pool of red wine sauce and top with lingonberry compote.
Serves 6.