"There must be a million reasons to go to Africa, but until last year, none of them had drawn me there. At the urging of friends and family I booked a trip; not fully knowing what was in store, but thoroughly excited nonetheless. Along with my wife (herself an Africa veteran), some good friends and their adult son we decided to meet in Cape Town on July 2nd for the quick flight to Port Elizabeth. We were met by our JohnX guides upon arrival and driven to the Lalibela Game Reserve, where we would enjoy part of our stay. July is winter time in South Africa, and the fireplaces indoors and outdoors were a fine welcome at the hunter's lodge. I left immediately to shoot for my guide (not a very impressive performance) until he was (somewhat) satisfied that I wouldn't be a danger to myself or others around me. That task accomplished we headed to the lounge at the lodge, I rejoined my wife and friends, and exposed myself to the pitfalls of drinking fine South African beer with the hosts and guides. Beer drinking has been elevated to an art form in the East Cape, and everyone appreciates an eager participant. Our bungalows were warm and comfortable with magnificent views, and a short walk from the main lodge. Meals were excellent and punishing in size and scope; but the best was yet to come.
The hunt areas are a 30 to 45 minute drive from Lalibela. Well past the farms and development, this land features wide plains and steep valleys, rivers and dense brushy slopes. I didn't shoot at the first impala we saw; I couldn't get myself settled down in time and they were on the move. Just a few hours later, my guide and our tracker saw the Kudu whose horns now adorn the fireplace at home. We toured around after the skinning was done and the meat was packed; saw more game and returned home in the cool dusk.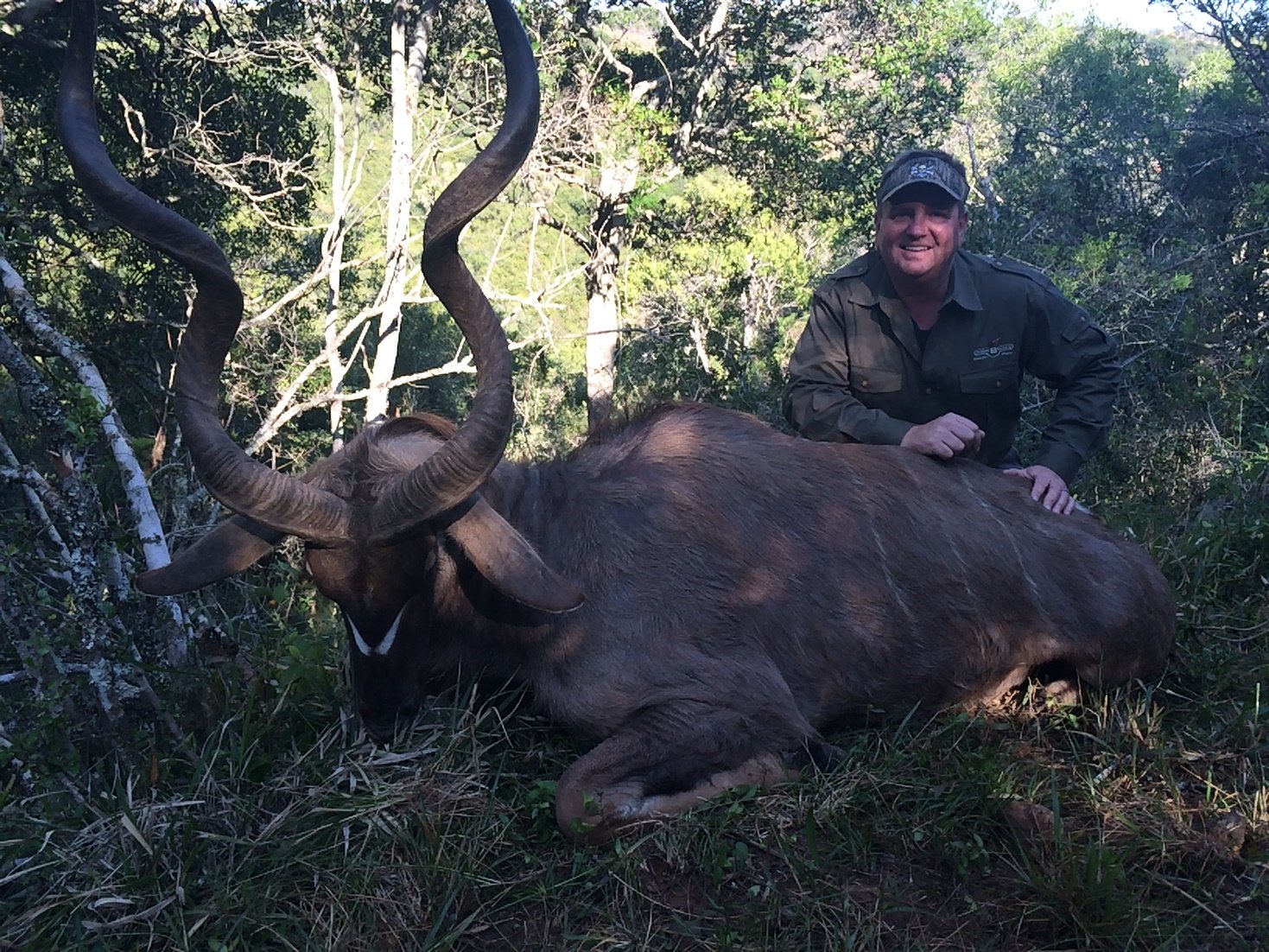 Pictured about is Kevin with his Kudu, taken about 30 miles from the Lalibela game preserve, in Grahamstown.
The next few days featured more of the same, with a trip for three nights to an area North of Graaf Reinet called the Karoo. Vast and barren at first glance, the area holds a diverse number of species and is fun to hunt. Animals here are spotted from a great distance and then hunted as stealthily as possible, often disappearing into the brush, just to increase the fun factor. JohnX uses the Glen Harry lodge up in the Karoo, and it is a wonder. Remote and private, Glen Harry is built around a beautiful main building with outlying cabins for hunters and guests. The food was great here too, we loved it.
For a change of pace, we went Grey Partridge hunting with a local guide (Tim Van Heerden) who operates Karoo Wingshooting. We met up with Tim in a huge valley ringed by cliffs and were promptly introduced to his English Pointers (Elhews, no less). Tim is a wingshooting enthusiast and has a passion for resource management and quality dog work. It was easily one of the best days afield I've ever experienced. We shot all of the birds we wanted, and could have stayed even longer, but I'm trying not to be a game hog, and the warm confines of the lodge were calling.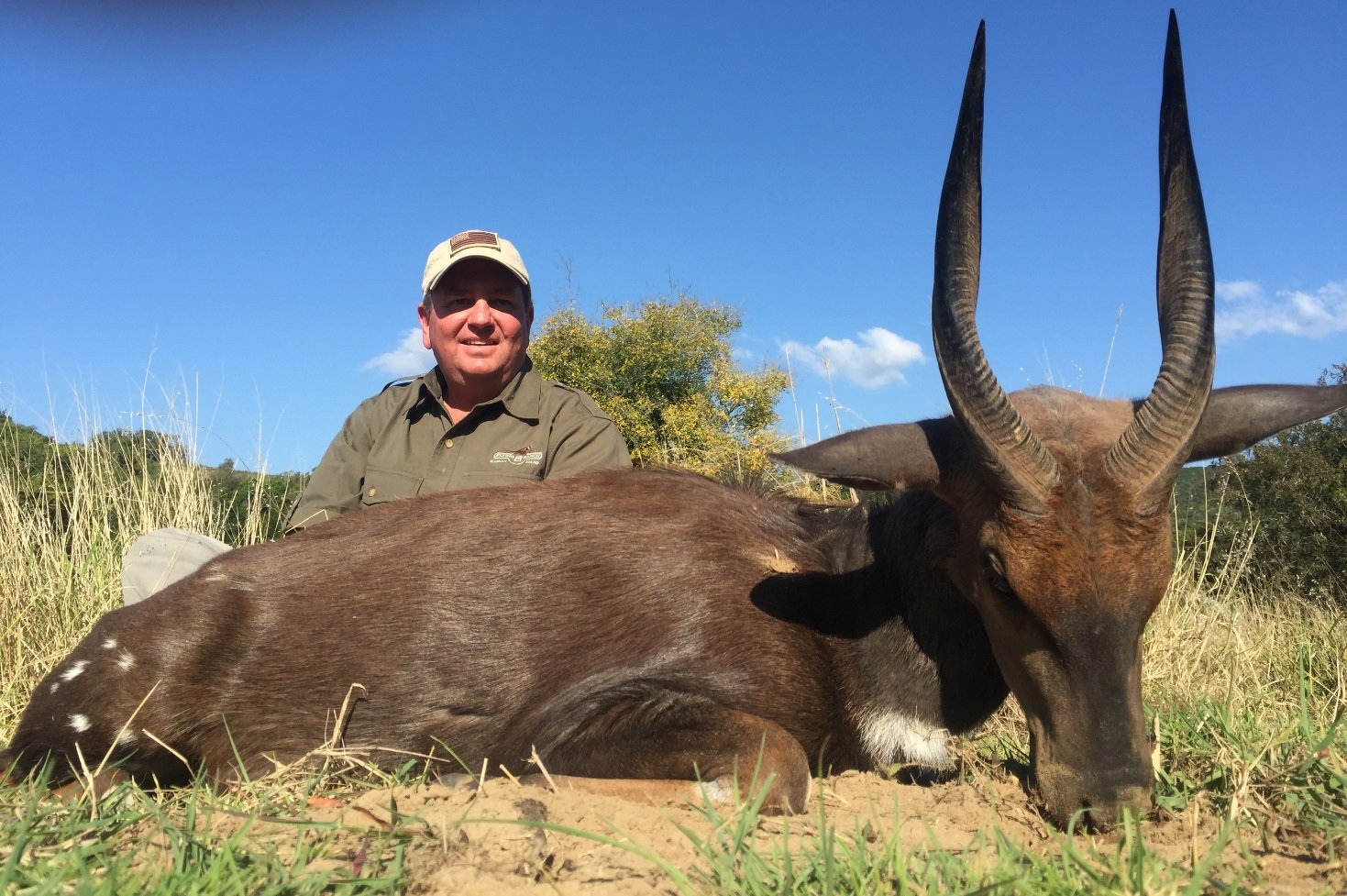 Kevin's bushbuck also taken about 30 miles from the Lalibela game preserve.
We returned to Lalibela, and on the way stopped at Grahamstown for the local art festival. It was electric and interesting and well worth the visit. The Eastern Cape has a complicated history, and everyone there is proud of what it has become. Once back at the lodge, we settled into our routine. My wife and her friend convinced me to return early one afternoon and join them for a game tour on the reserve. It was beautiful and comfortable and a real highlight, and in the end, Susan enjoyed our Safari with JohnX as much as I did (and that's a lot). I can't recommend this operation highly enough. At the Flying B Ranch, we try to exceed our guest's expectations, and JohnX is operated the same way. Carl Van Zyl and his wife Trish are magnificent hosts, and in true safari fashion, your guides stay with you the whole time. Martin, Greg and Sticks (our guides) were true experts and easy to spend time with. Each of them exhibited true reverence for the safari lifestyle. We felt comfortable, safe and pampered every single minute of our trip. Going back to hunt with JohnX isn't an option for me; I will be returning with my daughters (and wife, of course) to hunt and live and breathe deep the East Cape Air.
We all reconvened in Cape Town for tours and wine tasting. The US Dollar goes a long way there, and the city is fun, clean and friendly. If time allows, I recommend a few days' stay on your way out of town. It's another side of the Cape Region; beautiful and inspiring, and full of history.
A few thoughts about timing and logistics: We went in July, and as a result, we didn't see a single snake or bug. Travel into and around South Africa with guns is a bit challenging. If you wish to travel with your own guns, be sure to book with an agent recommended by JohnX; they will make sure your equipment arrives on time and without hassle. I rented a gun from them for the duration of my Safari. They use suppressed rifles there, and that was a treat. Plains game was abundant so I opted for a Weatherby Vanguard .270 with a Zeiss scope. For bird hunting I used their CZ 12 guage over-under. All fine guns, and in perfect shape, just like all of their facilities and equipment. Trophies are prepared and shipped reasonably from South Africa, and quality taxidermy is available there too."
For more information on JohnX Safari please visit their website at http://www.johnxsafaris.co.za/ or email them at hunting@johnxsafaris.co.za